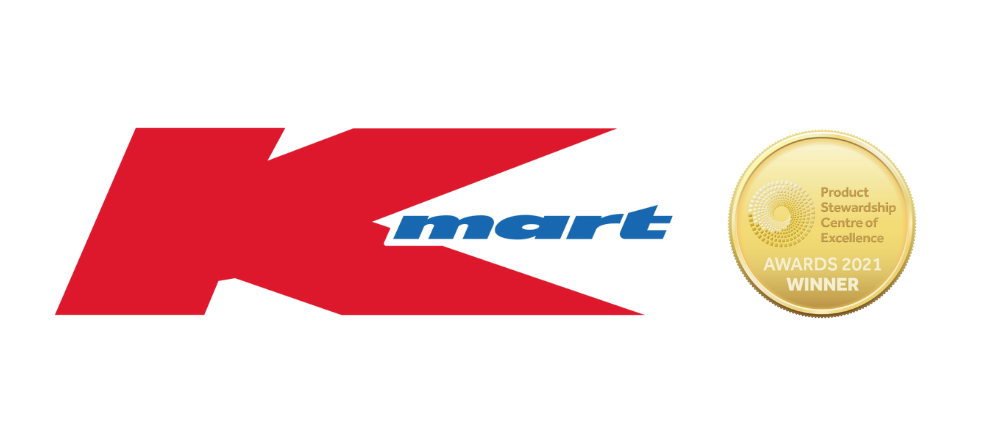 Centre of Excellence Product Stewardship Awards 2021 Sponsor
Kmart Australia is this year's sponsor for the Centre of Excellence Product Stewardship Awards 2021.
Their ongoing commitment to positive product stewardship outcomes expands year-on-year.
As one of Australia's leading retailers, Kmart is leveraging its scale and global expertise to create meaningful and industry-leading impacts across the planet and people that it touches. Its price leadership and the volume of products sold mean they are actively working to minimise their impact. Key to Kmart's strategy is industry/supplier collaboration and leveraging the scope of its operations which provides unprecedented scale to make a real difference across product design, material selection, manufacture and distribution through to the customer.
Beyond membership and participation in the Australian Packaging Covenant Organisation (APCO), National Television and Computer Recycling Scheme and Battery Stewardship Council's B-cycle scheme, Kmart is an active participant in the SeatCare Working Group to develop a scheme for baby car seats, is actively investigating system wide solutions to address Australia's clothing waste problem through a number of industry partnerships and collaborations and is investigating ways to manage the impacts of electrical products across their lifecycle.
To support its broad range of product offerings aimed at making everyday living brighter for their customers, Kmart's Better Together sustainable development program provides a globally benchmarked framework that supports many of Australia's product stewardship principles and activities. Key elements of the Better Together program aim to reduce the environmental impacts of plastic, cotton, polyester and chemicals used in manufacturing while increasing the use of recycled materials in textiles, products and packaging and improving human rights and standard of living for those involved in our supply chain.
For more information on Better Together see https://www.kmart.com.au/bettertogether.
https://stewardshipexcellence.com.au/wp-content/uploads/2021/12/WEBSITE-6.png
548
1000
Reagan Ruppell
https://stewardshipexcellence.com.au/wp-content/uploads/2021/02/PSCE-Logo-1000.jpg
Reagan Ruppell
2021-12-13 08:48:19
2021-12-13 08:57:22
Centre of Excellence Product Stewardship Awards 2021 Sponsor